Korean Air Announces Intent to Acquire 30 Boeing 787 Dreamliners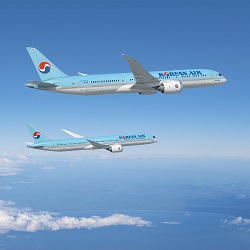 LE BOURGET, France /PRNewswire/ — Boeing [NYSE: BA], Korean Air and Air Lease Corporation [NYSE: AL; "ALC"] announced at the Paris Air Show the airline plans to add 30 new 787 Dreamliner airplanes to its fleet, with a commitment to purchase 10 new 787-10s and 10 additional 787-9 airplanes valued at $6.3 billion at current list prices. As part of this agreement, Korean Air will also lease 10 787-10s from ALC.
The airline, one of the largest transpacific carriers in Asia with 16 non-stop routes to North America, will introduce the larger 787-10 to complement its long-haul fleet of 787-9 and 777 airplanes. This order will be reflected on Boeing's Orders and Deliveries website once it is finalized.
"As we continue to innovate our product offering, the 787 Dreamliner family will become the backbone of our long-haul fleet for many years to come," said Walter Cho, Chairman of Korean Air. "In addition to 25 percent improved fuel efficiency, the stretched 787-10 offers around 15 percent more space for passengers and cargo than our 787-9s, which will be critical to our long-term business goals."
With this order, Korea's flag carrier will quadruple its 787 fleet to 40 airplanes as it looks to strengthen its long-haul fleet. "ALC is delighted and honored to bring the 787-10 to Korean Air's fleet in a joint effort with Boeing. The 787-10 provides significant revenue enhancement to complement Korean's 787-9 fleet, and the long-term lease of ten 787-10s from ALC will greatly expand the scope and reach of the 787-10 in Korean Air's global network," said John L. Plueger, CEO and President of Air Lease Corporation.
Korean Air operates a fleet of 96 Boeing passenger airplanes, including the Next-Generation 737, 747, 777 and 787 airplanes. The airline also operates an all-Boeing cargo fleet with the 747-400, 747-8 and 777 Freighters.
"Korean Air is a leading global airline and has become one of Asia's largest transpacific carriers. We are honored that Korean Air has decided to quadruple its 787 Dreamliner fleet and we will work closely with them to finalize this landmark deal," said Ihssane Mounir, senior vice president of Commercial Sales and Marketing of The Boeing Company. "Korean Air continues to build its incredible widebody airplane fleet to enable its philosophy of providing 'Excellence in Flight' for its passengers."
Korean Air employs a variety of Boeing Global Services to support its fleet, including Airplane Health Management services, which optimizes aircraft scheduling using predictive analytics with real-time flight data to reduce delays for its 787 aircraft. The airline also employs Jeppesen FliteDeck Pro electronic flight bag services that streamline access to digital navigational data, charts, manuals, and weather information for pilots. In addition, Korean Air also uses digital flight planning and runway performance analysis solutions, to further enhance operational efficiency and reduce costs across all phases of flight.
Source Boeing / Edited By Airline Adviser 06/24/19