Cargo & Freight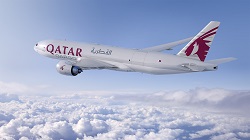 LE BOURGET, France /PRNewswire/ — Qatar Airways, one of the world's leading air cargo carriers, announced a commitment to purchase five additional 777 Freighters from Boeing [NYSE: BA]. The deal, valued at $1.8 billion at list prices, was unveiled at the Paris Air Show and signed in the presence of His Excellency Jassim Saif Ahmed Al-Sulaiti, Qatari Minister of Transport and Communications. "I am very pleased that Qatar Airways has today signed this landmark order for five new Boeing 777 Freighters to add to our cargo fleet," said His Excellency, Mr. Akbar Al Baker, CEO, Qatar Airways Group. "It will increase our 777 freighter fleet by a full 20 percent, enabling us to further develop our business and offer new customers the chance to experience a truly first-class logistics service. This is an order that will propel our growth and, I firmly believe, confirm us as the leading cargo operator in the world." Qatar Airways has rapidly grown its air cargo operations to serve more than 60 global destinations, becoming one of the top international air freight operators in the world. The latest freighter deal builds on the airline's 777 Freighter order book as the airplane has become the backbone of Qatar Airways freighter fleet. It currently operates 23 freighters, including 16 Boeing 777 Freighters. The 777 Freighter is the world's largest and most capable twin-engine freighter. It can fly 4,970 nautical miles (9,200 kilometers) with a payload of 224,900 lbs (102,010 kg). The airplane's long range translates into significant savings as fewer stops mean lower landing fees, less congestion, lower cargo handling costs and shorter delivery times. Customers from around the world have ordered 217 777 Freighters since the program began in 2005, including a record 45 units in 2018. Boeing is the air cargo market leader, providing over 90 percent of the dedicated freighter capacity around the world.
Source Boeing / Edited By Airline Adviser 06/27/19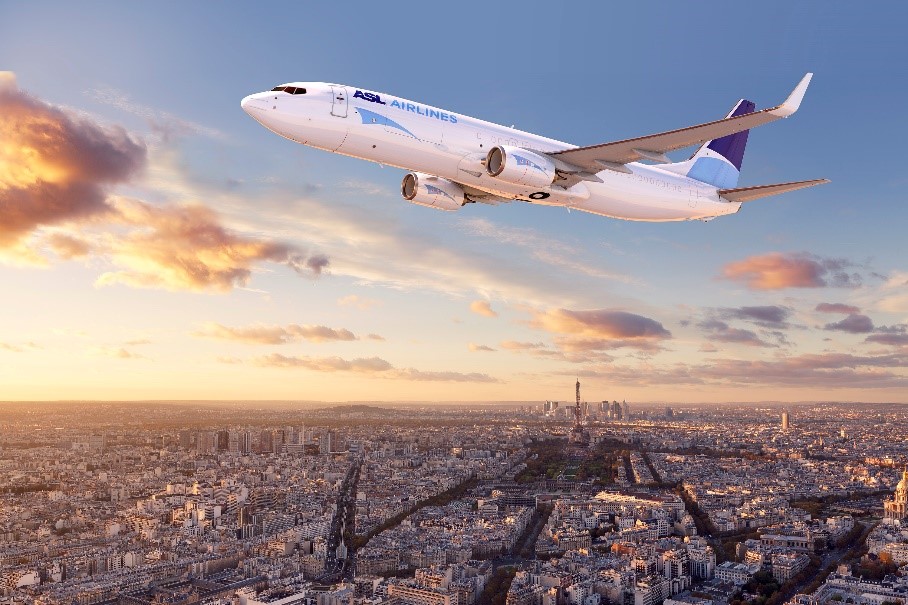 LE BOURGET, France,—ASL Aviation Holdings DAC (ASL) and Boeing [NYSE: BA] signed a Memorandum of Understanding for 20 737-800 Boeing Converted Freighters (BCF), bringing the world's first Next-Generation 737-800 freighter conversion to 120 orders and commitments, from eight customers. The agreement includes 10 firm orders and 10 purchase rights. "Having operated two leased 737-800BCFs across our wide European network, we are very pleased with how the flexibility and reliability of these freighters fulfill our operational needs in meeting our customer requirements," said Hugh Flynn, Chief Executive, ASL Aviation Holdings. "The aircraft is highly efficient and right-sized for our developing operations on behalf of our express cargo customers who are experiencing growing demand. The 737-800BCF will also give us access to new markets." Operating on six continents, ASL provides network solutions to express freight integrators, transporting more than 357,000 metric tones of cargo in 2018. "This order is a great testimonial of the unique capabilities of a 737-800 converted freighter. ASL Aviation has seen firsthand how this platform is perfectly suited to fly express cargo on domestic and short haul routes. We are honored that ASL Aviation is growing its business with the 737-800BCF," said Ihssane Mounir, senior vice president of Commercial Sales & Marketing for The Boeing Company. "With more operators seeking out the 737-800BCF, we are looking to expand our conversion capacity to support our customers and their growth plans." Boeing recently inaugurated new conversion lines at Boeing Shanghai Aviation Services (BSAS) and Taikoo (Shandong) Aircraft Engineering Company (STAECO), while looking to expand further. The program is committed to more than double 737-800BCF output this year, going from eight conversions in 2018 to 17 in 2019. Boeing predicts that 2,650 freighters will be delivered between 2018-2037, with more than 60 percent of these deliveries comprised of passenger-to-freighter conversions. Already operating on four continents (Africa, Asia, Europe, and North America) after entering service last year, the 737-800BCF is certified by various global regulators: the U.S. Federal Aviation Administration, the European Aviation Safety Agency, the Civil Aviation Administration of China, and Russia's Federal Air Transport Agency. The 737-800BCF carries more payload – up to 23.9 tones (52,800 lbs.) – and flies farther – 2,000 nautical miles (3,750 km) compared to 737 Classic freighters. It also offers operators improved fuel efficiency, lower operating cost, and higher reliability than previous standard-body freighters.
Source Boeing / Edited By Airline Adviser 06/27/19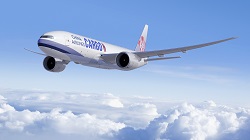 LE BOURGET, France, /PRNewswire/ — Boeing [NYSE: BA] and China Airlines announced the airline's intent to order up to six 777 Freighters to modernize its cargo fleet. China Airlines plans to transition to the world's largest and longest range twin-engine freighter as it launches operations from Taipei to North America and Europe – two key markets that provide higher yields for the carrier. "Air cargo is an important part of our overall business and the introduction of these new Boeing 777 Freighters will play an integral role in our long-term growth strategy," said China Airlines Chairman Hsieh Su-Chien. "As we transition our Freighter fleet to the 777Fs from the older 747Fs, this will enable us to deliver world-class services to our customers more efficiently and reliably." The 777 Freighter is capable of flying 4,970 nautical miles (9,200 km) with a maximum payload of 102,010 kg (224,900 lbs). The airplane will allow China Airlines to make fewer stops and reduce associated landing fees on these long-haul routes, resulting in the lowest trip cost of any large freighter and superior ton-mile economics. In addition, the 777 Freighter features market-leading capacity for a twin-engine freighter, accommodating 27 standard pallets, measuring 96 inches by 125 inches (2.5 m x 3 m) on the main deck. This allows for lower cargo handling costs and shorter cargo delivery times. "The global air freight market is forecasted to double over the next 20 years, and the 777 Freighter's market-leading capabilities and economics will help China Airlines extend their network and grow their cargo business," said Ihssane Mounir, senior vice president of Commercial Sales and Marketing of The Boeing Company. "We are proud to expand our partnership with China Airlines, building on our successful introduction of the 777-300ER passenger jet a few years ago. We look forward to delivering new 777 Freighters into their world-class fleet."
Source Boeing / Edited By Airline Adviser 06/27/19
SEATTLE /PRNewswire/ — Boeing [NYSE:BA] and All Nippon Airways (ANA) announced the Japanese carrier has placed a new order for two 777 Freighters valued at $678 million according to list prices.
While ANA is a major operator of the Boeing 777 passenger jet, it has grown its cargo operation with the medium-sized 767 Freighter. In adding the 777 Freighter – the world's largest and longest range twin-engine cargo jet – ANA is expanding its cargo capabilities just as the air freight market keeps growing at historically high rates.
"Air cargo is an essential part of global trade growth," said Hiroshi Sugiguchi, Vice President, Corporate Planning & Administration, ANA Cargo. "We are committed to playing a critical role in further advancing Japan's economic growth through trade and these new freighter airplanes will help us accomplish our goal. ANA will ensure that our cargo operations reflect the five-star service that we have garnered over the past several years."
Last year, the global air cargo market grew 9 percent, more than double the long-term projected growth rate of about 4.2 percent. In January, the above-trend growth continued with an 8 percent increase in demand. Industry experts say the strong performance reflects global economic trade, fueled in large part by expanding e-commerce.
ANA says it plans to fly its new 777 Freighters on international routes, particularly to Asia, China, and North America. With this order, ANA will become the first airline in Japan to operate 777 Freighters.
The 777 Freighter is capable of flying 4,900 nautical miles (9,070 kilometers) with a payload of 112 tons (102 metric tonnes or 102,000 kg). The airplane's long range translates into significant savings as fewer stops mean lower landing fees, less congestion, lower cargo handling costs and shorter delivery times.
Source Boeing / Edited By Airline Adviser 03/25/18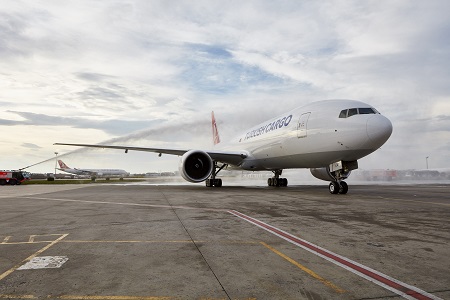 SEATTLE, PRNewswire/ — Boeing [NYSE:BA] and Turkish Airlines announced that the carrier ordered three more 777 Freighters in December 2017. The new order came weeks after the carrier took delivery of two of the large cargo jets as part of its plan to further expand its freight business.
"These freighter orders will surely contribute to our significant target for establishing a young and efficient cargo fleet," said M. ?lker Ayc?, Chairman of the Board and the Executive Committee of Turkish Airlines. "The new aircraft will be delivered this year and will provide us with additional flexibility to serve more destinations while we continue to develop our global freight service."
The 777 Freighter is the world's longest-range twin-engine freighter and is based on the 777-200LR (Longer Range) passenger airplane. The jet can fly 4,900 nautical miles (9,070 kilometers) with a full payload of 112 tons (102 metric tons or 102,000 kg).
Source Boeing / Edited By Airline Adviser 01/15/18
LE BOURGET, France, PRNewswire/ — Boeing [NYSE: BA] and Ethiopian Airlines announced a commitment to purchase two 777 Freighters at the 2017 Paris Air Show, valued at $651.4 million at list prices. The order will be reflected on the Boeing Orders & Deliveries website once it has been finalized.
The airline also announced an order for 10 additional 737 MAX 8 airplanes, exercising options from their 2014 order, which was the largest for the 737 MAX in Africa. Ethiopian now has firm orders for 30 737 MAX 8s.
"Building one of the largest cargo terminals in the world and operating new-generation, high-performance aircraft reflects our commitment in expanding and supporting the exponentially growing imports and exports of our country in particular and the African continent in general. The commitment to purchase two 777 Freighters is expected to boost the Ethiopian Cargo & Logistics Services," said Tewolde GebreMariam, GCEO of Ethiopian Airlines. "The 737 MAX will form a key component of our strategic roadmap, vision 2025, enhancing our single-aisle fleet and keeping us at the forefront of African aviation. This is a continuation of the longstanding and commendable business partnership we had established with Boeing."
The 777 Freighter, the world's longest-range twin-engine freighter, is based on the technologically advanced 777-200LR (Longer Range) passenger airplane and can fly 4,900 nautical miles (9,070 kilometers) with a full payload of 112 tons (102 metric tonnes or 102,000 kg).
Ethiopian Airlines is the flag carrier of Ethiopia. During the past seventy plus years, Ethiopian has become one of the continent's leading carriers, unrivalled in Africa for efficiency and operational success, turning profits for almost all the years of its existence.
Operating at the forefront of technology, the airline has also become one of Ethiopia's major industries and a veritable institution in Africa. It commands a lion's share of the pan African network including the daily and double daily east-west flight across the continent. Ethiopian currently serves 100 international and 21 domestic destinations operating the newest and youngest fleet.
Source Boeing / Edited By Airline Adviser 06/26/17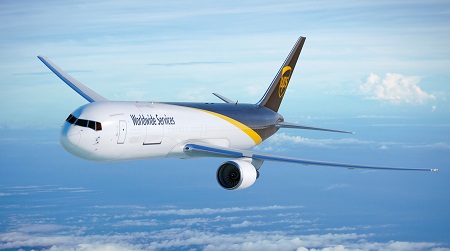 LE BOURGET, France, June 19, 2017 /PRNewswire/ — Boeing [NYSE: BA] and UPS [NYSE: UPS] announced an order at the 2017 Paris Air Show today to convert three 767 passenger airplanes into Boeing Converted Freighters.
"The purchase and conversion of these 767s is a perfect example of how UPS is making smart investments to fuel profitable growth," said UPS Airlines President Brendan Canavan. "This extension of our relationship with Boeing will help expand the safe, reliable and on-time services we provide for our customers all over the world."
UPS and Boeing have collaborated on airlift since 1981, when UPS purchased its first 727s to begin its Next Day Air operation, and the transportation giant was Boeing's launch customer for the 767 freighter in 1995. Through its freighter conversion program, Boeing transitions passenger airplanes into freighters, extending the economic life of the airplane.
Boeing's current market outlook forecasts a need for 400 wide body conversions over the next two decades, with strong demand for 767 freighter conversions due to a rise in e-commerce and the express market.
UPS is a global leader in logistics, offering a broad range of solutions including transporting packages and freight; facilitating international trade, and deploying advanced technology to more efficiently manage the world of business. Headquartered in Atlanta, UPS serves more than 220 countries and territories worldwide. UPS operates 184 Boeing aircraft. In October, 2016 UPS announced the purchase of 14 747-8 Freighters, with options to purchase 14 additional aircraft.
Source Boeing / Edited By Airline Adviser 06/19/17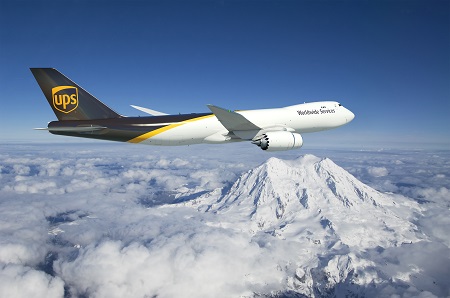 EVERETT, Wash / Boeing [NYSE: BA] and UPS [NYSE: UPS] announced an order for 14 747-8 Freighters. The agreement also includes an option to purchase an additional 14 of the cargo airplanes.
"These aircraft are a strategic investment for increased capacity for UPS customers around the globe," said Brendan Canavan, president, UPS Airlines. "The 747-8 will allow UPS to upsize our network in both new and existing markets." UPS serves more than 220 countries and territories worldwide
The 747-8 Freighter is the world's most efficient freighter, providing cargo operators the lowest operating costs and best economics of any large freighter on the market. With its iconic nose door, the airplane has 16 percent more revenue cargo volume than the 747-400F. The airplane also reduces the noise footprint around an airport by 30 percent compared to its predecessor.
With 109 747-8 passenger and freighter airplanes delivered to customers around the globe, the fleet is performing with the highest dispatch reliability and utilization of any four-engine airplane in service.
Source Boeing  / Edited By Airline Adviser 11/01/16
FARNBOROUGH, United Kingdom, July 13, 2016 /PRNewswire/ — Boeing [NYSE: BA] announced 10 new orders and commitments today at the 2016 Farnborough International Airshow for its Boeing Converted Freighters (BCF) program.
Cargo Air, based in Sofia, Bulgaria, and Lineas Aereas Suramericanas (LAS) Cargo, based in Bogota, Colombia, will each receive two 737-800BCFs. Air Algerie, based in Algiers, Algeria, signed a commitment for two 737-800BCFs. An unidentified customer ordered four 767BCFs.
"We have received very positive response from the market for Boeing's 737-800 and 767 freighter conversion programs," said Rick Anderson, vice president of sales and marketing, Boeing Commercial Aviation Services
Boeing has won 22 firm orders for the 767BCF and up to 59 orders and commitments from customers around the globe for the 737-800BCF. Both models meet the demand for freighters to support the express cargo market.
Boeing launched the 737-800BCF program in February in response to this demand. Airplanes will be modified into freighters at select facilities located near conversion demand, including Boeing Shanghai Aviation Services. The first 737-800BCF is expected to deliver in the fourth quarter of 2017.
Source Boeing / Edited By Airline Adviser 07/13/16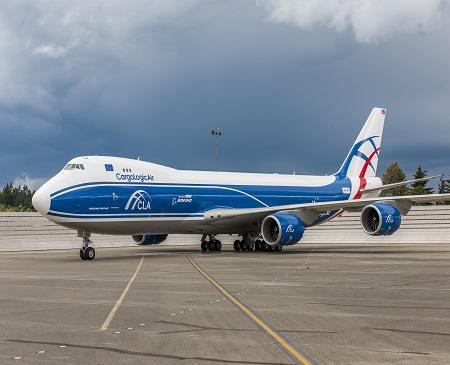 FARNBOROUGH, United Kingdom /PRNewswire/ — Boeing (NYSE:BA) and Volga-Dnepr Group, a leader in transportation of unique, outsize and heavy cargo, announced today at the 2016 Farnborough International Airshow finalization of terms for the acquisition of 20 747-8 Freighters, which includes four aircraft that have already been delivered.
Boeing also signed an agreement with the Group's subsidiaries AirBridge Cargo Airlines and Volga-Dnepr Airlines to provide long-term logistics support for Boeing Commercial Airplanes and its partners using Boeing 747-8 and Antonov 124-100 freighters. Boeing and Volga-Dnepr Group will also enter into an agreement to look at future services opportunities.
"Volga-Dnepr intends to provide strong evidence to the market that the unique An-124 and Boeing 747-8 four-engine freighters are still essential to serve the fast-changing requirements of our customers worldwide," said Alexey Isaykin, President of Volga-Dnepr Group. "The most obvious proof of this is the high demand for Boeing 747-8 and ?n-124 freighters from customers in the aerospace industry, which today represents 30 percent of our overall operations.
Volga-Dnepr Group was the first to order the Boeing 747-8 Freighter in Russia and took delivery of its first 747-8 Freighter in 2012. The newly-ordered aircraft will support Volga-Dnepr's long-term strategy to grow AirBridge Cargo's fleet and replace current 747-400s. They will be acquired through a mix of direct purchases and leasing over the next six years.
The newly-delivered 747-8 Freighter on display in the Cargo Village at Farnborough will be operated by Cargo LogicAir, the new British cargo airline and partner of Volga-Dnepr Group.
Volga-Dnepr Group is the world leader in the unique, oversize and heavy cargo market and has represented the Russian airfreight industry in the international market since 1990. The Group, which includes three leading Russian all-cargo carriers – Volga-Dnepr Airlines, AirBridge Cargo Airlines and Atran Airlines – has a multinational team based in 15 countries. Volga-Dnepr is currently operating 12 Antonov 124-100, 5 IL-76TD-90VD, 16 Boeing 747s (five Boeing 747-400ERFs, three Boeing 747-400 Freighters and eight Boeing 747-8F Freighters) and three Boeing 737-400F.
Source Boeing / Edited By Airline Adviser 07/13/16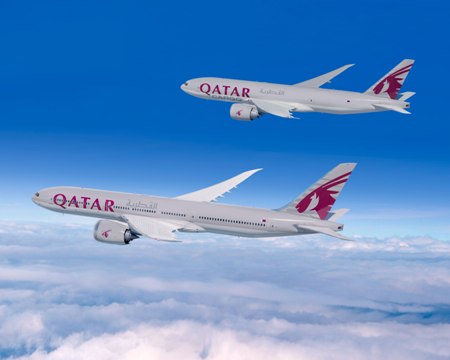 Air freight in the US and Asia has taken a dip this year to date. The 2016 numbers are way down based on projections. Companies are looking at ways to lower their costs and air cargo has seen a slump this year.
Low cost airlines in the Middle East have not helped cargo based airlines. carries such as Etihad Airways, Qatar Airways ,and Emirates Airlines have increased their cargo traffic by 5.9 per cent. Iata has published the numbers of recent and it is alarming that freight has shifted in its pattern.
Most freight forwarders in Asia and United States have shifted their shipping needs to ocean freight. Late last year many contracts were signed for shipment by cargo ships. This has sent alarms to many air cargo carriers in these areas and even shown in aircraft orders for freight. Farnborough airshow is next week.
Next week we at Airline Adviser are anticipating a lower cargo order for aircraft than years past. See http://www.farnborough.com/ Trade days are July 11 thru 15 and access for Public show is July 16 thru 17. Replacement of older aircraft may go one of two ways. Aircraft too old and three year plan to upgrade fleet. Second option got for slightly older aircraft to maintain existing fleet or a five to ten year plan to slowly replace existing fleet with used aircraft.
Source Airline Adviser 07/07/16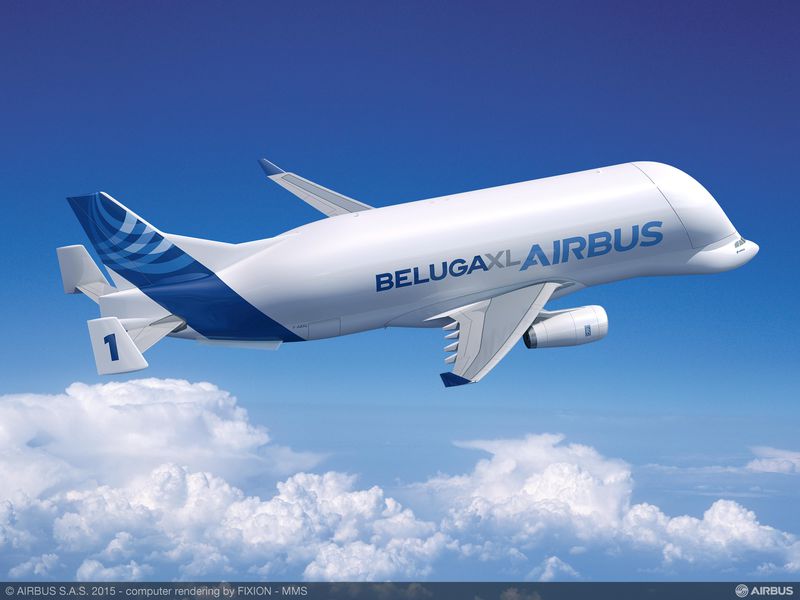 Courtesy Airbus
The first of Airbus' five new Beluga XL airlifter "giants" will begin taking shape early next year, initiating the creation of a new jetliner fleet to transport complete sections of the company's aircraft from production sites around Europe to final assembly lines in France, Germany and Spain.
Beluga XL's lower fuselage will be the same as the Freighter version of Airbus' A330-200 jetliner and is to be built on the A330 final assembly line adjacent to Toulouse-Blagnac Airport in southwestern France.
The Beluga XL's other aerostructure-specific components are provided by external suppliers, including the significantly enlarged upper fuselage, the modified forward fuselage section with a lowered nose and cockpit, a large forward cargo door allowing "roll-on-roll-off" loading directly onto the main deck, and a pair of auxiliary vertical tailplane end-fins.
Once a lower fuselage for Beluga XLs is completed on the final assembly line, it will be moved to Building L34 at Airbus' Lagardère industrial zone adjacent to Toulouse-Blagnac Airport, where the build-up process into the outsized airlifter will take approximately 12 months per aircraft.
The five Beluga XL aircraft will provide an additional 30 percent in transport capacity for Airbus' industrial network, joining the existing fleet of five A300-600ST Super Transporters – which are based on the legacy A300 jetliner, and were given the original "Beluga" moniker because of their resemblance to the white whale of the same name.
Source Airbus / Edited By Airline Adviser 05/13/16
SINGAPORE, Dec. 18, 2015 – Boeing (NYSE: BA) and SF Airlines today celebrated the delivery of the airline's first 767-300 Boeing Converted Freighter (BCF), which is also the first owned by an airline in China.
The delivery took place at Boeing supplier ST Aerospace Services Co. in Singapore, where the conversion work was performed. It is the first of five 767BCFs the airline will receive during the next year.
"Our goal is always to provide our customers with a higher quality, highly efficient express service. This is a goal we believe the 767BCF will help us accomplish," said Xi Liang, SF Airlines Vice President of Maintenance and Engineering. "With its larger capacity and higher fuel efficiency, we look forward to the 767BCF ensuring quick shipping to our customers."
The 767-300BCF is recognized as the industry's most efficient medium wide-body twin jet freighter, with low direct operating costs, superior payload to weight ratios and Boeing's world class support.
Based in Shenzhen, SF Airlines currently operates an all-Boeing fleet of 25 airplanes, and has signed a letter of intent to purchase 737-800BCFs following a program launch. The addition of the wide-body freighter to SF Airlines' fleet of Boeing 737s and 757s is one example of changes being made by the airline to better support the rapid e-commerce growth in the China market. Moving forward, the plan is to continue to add more routes and expand the company's transportation network, Liang said.
Source Boeing / Edited By Airline Adviser 12/18/15
SEATTLE, Boeing [NYSE: BA] is extremely pleased to enter into an agreement with YTO Airlines to provide the airline with 737-800 Boeing Converted Freighters (BCFs) pending a planned program launch.
The 737-800 will be the first Next-Generation 737 that Boeing offers for conversion. Through its 737 freighter conversion program, Boeing will support customers in the narrow-body freighter market, a segment of the freighter market growing quickly around the world.
YTO Airlines is a Hangzhou-based Chinese express cargo carrier backed by Shanghai YTO Express Investment (Group) Co., Ltd. The carrier currently operates a fleet of Boeing 737-300F airplanes, providing domestic and international air cargo services.
Source Boeing / Edited By Airline Adviser 10/02/15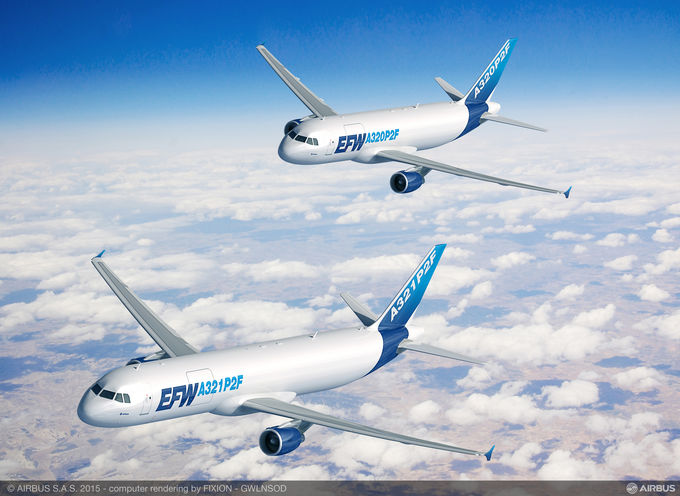 Courtesy Airbus
Airbus has signed an agreement with Singapore-based ST Aerospace to offer passenger-to-freighter (P2F) conversion solutions for its A320 / A321 aircraft. The agreement was signed at the Paris Air Show in Le Bourget by Harald Wilhelm, Chief Financial Officer of Airbus Group and Airbus, Serh Ghee Lim, President of ST Aerospace, Andreas Sperl, CEO of EFW and Tom Williams, Airbus Chief Operating Officer.
Airbus foresees a significant market demand of more than 600 aircraft over the next 20 years for P2F aircraft conversions in the small freighter segment. The A320P2F, with eleven main-deck container positions, will be capable of carrying 21 metric tonnes of payload over 2,100nm, while the A321P2F with 14 main-deck positions will be able to carry up to 27 tonnes over 1,900nm. The first converted A321P2F will be delivered in 2018.
The A320/A321 P2F converted aircraft will be marketed and managed by Elbe Flugzeugwerke (EFW). Airbus currently holds a majority stake at the Dresden-based freighter conversion specialist together with its partner and co-owner, ST Aerospace. In order to implement the new business line for A320 / A321 P2F aircraft, ST Aerospace will provide its specially developed conversion technology and will obtain another 20 percent of EFW's shares, thus increasing its stake in EFW to 55 percent. Subsequently, Airbus Group will become a minority partner in EFW, reducing its shareholding to 45 percent.
Source Airbus / Edited By Airline Adviser 06/29/15